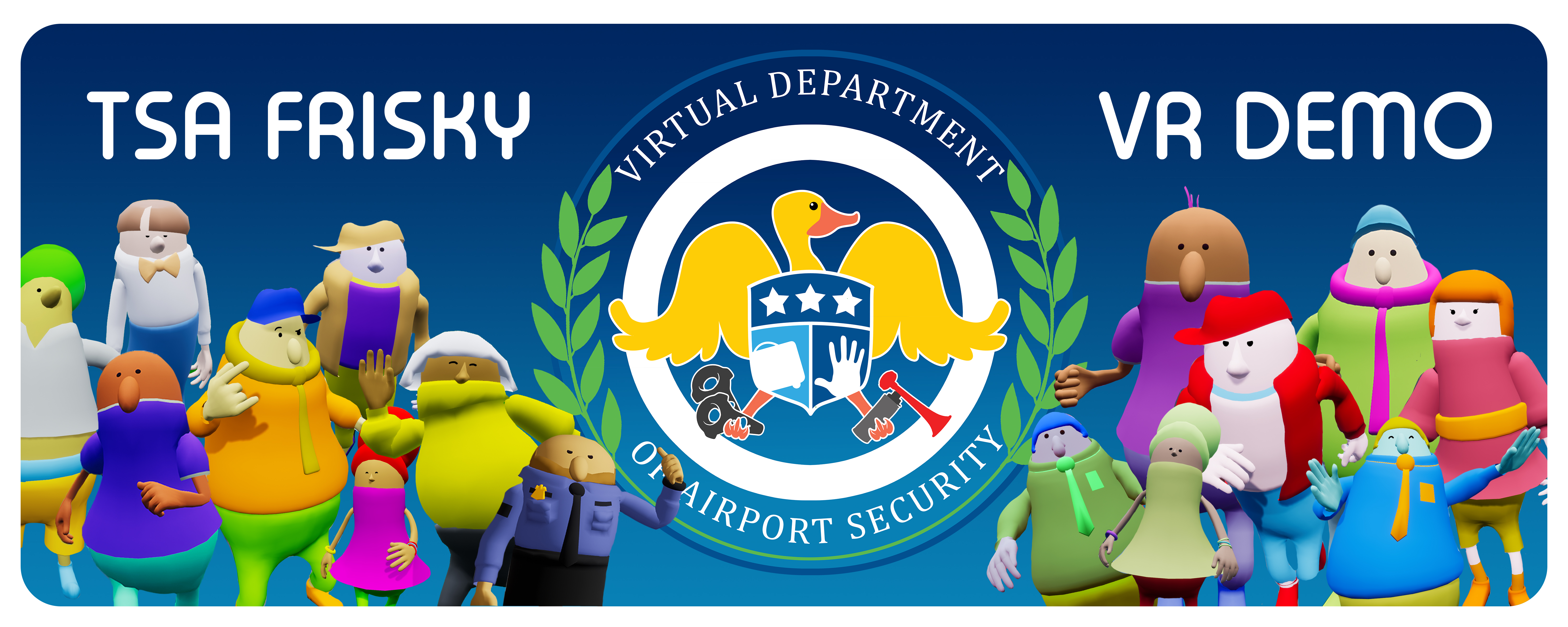 TSA Frisky DEMO
TSA Frisky is a VR game in which you play a TSA agent
managing lines, luggage, and leisure. Your goal is to clear all the passengers and their luggage without blacking out from stress. Helping you learn the ropes is your supervisor, who will point you to the tutorial slides, and let you know when you score points on the job. You will be scored based on your performance, and a global leader board is coming soon!


This game began as a student project, and is now in full development with Out There Entertainment, a Savannah-based VR startup dedicated to playing with the ridiculous, and making people smile. Check out our website, social media pages, and even email us if you have any questions, concerns, or just want to find out more! Thank you for all of the amazing support, we will keep you all updated on future updates and possible release date of our game.


Social Media:
https://www.facebook.com/tsafrisky
https://www.tsafrisky.com/
Email:
Contact@OutThereEnt.com

How to Play:
* Frisky passengers as they advance through the line. Use your tool belt to locate and irradiate contraband, and dispose of it in the red bin.
* Search through each passengers luggage, and dispose of the contraband accordingly. Close suitcases when done before the timer runs out!
* You must thoroughly search both the passenger and their luggage before the next pair advance.
* Prevent travelers from taking their pesky contraband onto the planes.
* Score points by being an effective employee, and earn the respect of your supervisor!





Technology/Tools:
Technology
* Utilizing the HTC Vive and Steam VR on PC
Tools
* Game: Unreal Game Engine 4.18, Perforce
* Art: Adobe Photoshop, Adobe Illustrator, Maya 2017, Headus UV Layout, Substance Painter
* Sound: Avid Pro Tools, Soundminer, Unreal Game Engine 4.17, Audiokinetic Wwise



Core team:
Preston O'Bryan - Co-Founder - Audio Director / Environment Artist
Christian Willet - Co-Founder - Programmer / Game Design
Remy Bustani - Co-Founder - Concept Artist / Graphic Design / 3D
External work (In no particular order)
Ralph Roma - 3D Artist
Neil Waters - 3D Artist
Neal Krupa - 3D Artist
Conner Burke - Animation
Logan McClure - Code
Kaushik Paddy - Code
Reichal Min - Motion Media
Peter Turner - Sound
Jacob Henderson - Voice Acting





Special Thanks to the professors of the SCAD ITGM department and the original TSA Frisky team, without whom this game would never have come so far:
Kaushik Paddy
Victoria Law
Alyssa Juarez
Elissa Danese
Kevin Achen
Daniel Wright
Christian Willet
Preston O'Bryan